Priligy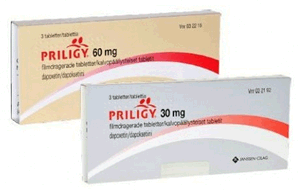 Priligy - Genuine Janssen-Cilag medication
At UKMedix we've authentic prescription medications available from diverse pharmaceutical brands trusted by millions around the world. This gives us a chance to provide medications to our customers that have been tested, tried and trusted with a track record of successful treatment of a condition.
We're offering genuine Janssen-Cilag's Priligy and not a generic alternative. We also provide you the help and quality medical advice you require throughout the use of the medication.
Our web consultation form has all the right questions needed by UKMedix team of doctors to understand more about the level and seriousness of your premature ejaculation problem. In the process, we'll learn more about your condition. Our doctors will provide the best prescription possible that meets your needs. Bear in mind our professional medical team is on standby to help you.
Contact them for unswerving advice and help, freely provided without obligation.
What Is Priligy?
Priligy is an on demand oral medication, the work of Janssen, and the first ever approved oral medicine for the treatment of premature ejaculation. The short-acting medication is a special serotonin re-uptake selective inhibitor used when required about 1-3 hours (60-180 minutes) before engaging in a penetrative sexual encounter. It's not to be taken every day but when required.
In its pre-marketing clinical studies and post-marketing clinical studies Priligy has been used by more than 15,000 men. In the clinical studies it was demonstrated to have a very high safety profile and superbly tolerated.
The pre and post marketing clinical trial remains one of the most comprehensive and largest of any clinical trial program specifically for premature ejaculation treatment.
Priligy is the brand name of Dapoxetene, which is absorbed fast by the body with fairy rapid effects. It's better used on demand before the sexual activity, reducing the chances of experiencing adverse effects due to its periodic intake. Priligy is a breakthrough premature ejaculation treatment as the first ever drug licensed to treat the problem.
Premature Ejaculation
One of the most distressing dysfunctions in male sexuality that can develop much later with age or from the first sexual activity is premature ejaculation. It's worth noting that men suffering from premature ejaculation actually seem to ejaculate like other men but the process is so fast with a lesser degree of control. Ejaculatory latency is believed to be brought about by a combination of psychological and physiological factors with serotonin playing the central role.
Premature ejaculation is a problem because it has a number of negative consequences such as unsatisfactory sexual gratification of the other partner, low self esteem, interpersonal difficulty, personal distress and sexual dissatisfaction. How to Take Priligy
Priligy should be used by men of between 18-64 years of age. During its intake, alcohol should not be used; alcohol induced effects such as slow reactions, sleepiness and dizziness can be heightened by Priligy as well. Priligy tablets are swallowed whole. They're bitter in taste and need to be taken with a full glass of clean drinking water.
The premature ejaculation medication can be taken with food or without food. One Priligy tablet should be taken 1-3 hours prior to engaging in sexual intercourse. It's worth noting and stressing that Priligy is not prescribed for daily continuous usage. It should be used when you foresee sexual activity.
What Dose Do I Need?
It's important for men to begin with 30mg, the lower dose of the medication to see how it works. The recommended trial treatment is a month or 4 weeks or a minimum of six doses. After the trial six doses or 4 weeks, a greater effect might be required. If the lower strength medication was superbly tolerated our medical doctors will prescribe the 60mg that's a little stronger than the 30mg medication. Remember within 24 hours only one tablet need to be taken as indicated and advised for daily usage.
What's Priligy's effect on IELT?
The effect that Priligy has on the Intravaginal Ejaculatory Latency Time (IELT) indicates how the medication takes to work and its effect on premature ejaculation. IELT generally refers to the time the penis enters the vaginal and the point the man begins ejaculating. 30mg or 60mg Priligy tablets improves IELT considerably. Trials indicate that Priligy increases IELT BY 3-4 times above the baseline once taken before sexual activity. At the same time, ejaculation control is improved by 51-58 percent.
Who needs Priligy?
As a premature ejaculation treatment for men between 18 and 64 years of age, UKMedix doctors will prescribe Priligy to patients with:
An IELT of not more than 120 seconds (2 minutes)
Recurrent or persistent ejaculation and reduced or very little sexual stimulation before, on or a short time after sexual penetration below the man's IELT wishes.
Obvious interpersonal difficulty or personal distress as a result of premarital ejaculation.
A clear premature ejaculation history in many sexual intercourse endeavours within the last six months.
Difficulty in controlling ejaculation.
Should I Buy Priligy Online?
Seeking treatment for premature ejaculation is always very hard considering very few people are really ready to talk about it.
UKMedix has a very private and confidential service offering lots of help and advice from the widespread experience and knowledge of our doctors without the need of talking to any of them across the table.
We understand it's not an issue many would like to share face to face.
As you purchase Priligy online, our recommendation is that you seek the help of websites offering genuine and trustworthy medical prescriptions and medications that are also regulated.
Go with a site with a medical team who'll then endorse your prescription to get you the premature ejaculation treatment required to treat your condition.
UKMedix is regulated and allowed to sell Priligy among other medication. We carry an MHRA approval badge we've received proudly on our website that links to our certified details and information in the official government MHRA website.
If you're purchasing prescription medication from a site without this critical information, the site is probably operating illegally.
UKMedix strongly suggest that you avoid purchasing delicate treatment like Priligy from such websites due to the health risk involved. Fake medication could destroy your organs and your life.
What Side Effects Does Priligy Have?
Priligy has moderate or minor side effects, such as:
Nausea
Dizziness
Headache
Diarrhoea
Insomnia
Fatigue
Most of these side effects were reported by patients who had taken higher than recommended Priligy doses during clinical trials.
I Would Like More Information about Priligy
UKMedix understands how important answers to various questions are while seeking such critical treatment like premature ejaculation among other medical conditions. It's also difficult to find reliable information out there. This is why we encourage patients to talk to our team of doctors directly for more information and receive more details on the answers they want.
Note that UKMedix doesn't obligate you to purchase Priligy or any other treatment we offer for speaking with our team of medical experts. Any advice is given freely, privately and confidentially.
Priligy Prices
Step 1 - Select & Proceed
Premature Ejaculation consultation requesting Priligy as possible treatment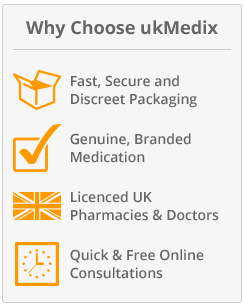 PharmaCheck
Know your Pharmacy
View More
Fast delivery! Got them the next day. Thanks so much!J. Gardner - London
Once again you have not failed to amaze. Order received at the hotel and looking forward to the weekend. Thanks guys!S. Parkins - Wales
Simply wow! Easy process to order and descreetly delivered the following day!P. Hibbert - Norfolk


ORDER NOW