Uprima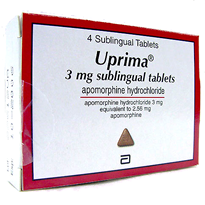 Uprima - Genuine Abbott medication
Uprima - is it for you?
Uprima (Apomorphine) is a drug designed to help men who suffer from erectile dysfunction. Uprima can help men who suffer from erectile dysfunction achieve and maintain an erection when sexually stimulated. This stimulation can be either physical or visual.
Who should not take Uprima?
Uprima is only to be taken by men who suffer from erectile dysfunction. Uprima is not for women or children. As with all prescription drugs it should only be taken on prescription and not by anyone else.
Before taking Uprima consult with your doctor to ensure that your heart is healthy. Men who suffer from acute angina, severe heart failure, myocardial infarction or any condition where sexual activity is not recommended should not take Uprima. Men suffering from impaired renal or hepatic functions must first consult with a medical practitioner before considering taking Uprima.
Uprima must not be taken with other centrally active dopamine agonists or antagonists. This is due to the risk of pharmacodynamic reactions.
Men taking hypertensives or nitrate medications must also consult with their doctor. Nitrates are found in prescription medicines used to treat angina. Such medicines are:
· Isosorbide mononitrate
· Isosorbide dinitrate
· Nitroglycerin
· Nitrates found in recreational drugs such as amyl nitrate (poppers).
We strongly advise that you consult with your doctor before you purchase Uprima if you have any concerns whatsoever.
How does Uprima work?
Uprima works by activating certain chemicals in the brain. Uprima tablets, taken orally, dissolve under the tongue and trigger the release of dopamine, one of the chemicals in the brain responsible for achieving and maintaining an erection. Uprima increases the levels of nitric oxide in the body that dilates blood vessels and increases blood flow to the penis. It also aids in the transmission of the signals from the brain via the spinal cord which also aids blood flow to the penis, helping to achieve an erection.
Dosage
Uprima tablets come in 2mg and 3mg doses. It is recommended that you start with the lower dosage and only increase the dosage if necessary.
Uprima should only be taken once in any 8 hour period, and no more than three times in 24 hours. Uprima is absorbed under the tongue thus enabling the drug to directly enter the bloodstream.
Uprima should be taken around 20 minutes before sexual activity. In order to ensure that the tablet dissolves properly it is recommended that you drink a glass of water beforehand. The tablet should be placed under the tongue where it will slowly dissolve. This usually takes around ten minutes. Sexual stimulation is required for the drug to take effect.
Viagra versus Uprima
There is very little difference in the success ratings of these two drugs. As Uprima is absorbed under the tongue and thus directly into the bloodstream, it is quicker to take effect. This is the main difference between the two. Should you have difficulty swallowing tablets you may find Uprima would work better for you. In all cases consult with your doctor beforehand.
If you have any concerns about your health, taking Uprima or if you haven't had sex in a while consult with your doctor beforehand.
Our commitment to you
As part of our commitment to you we strongly advise that you read through the following information about Uprima. We hope that it will answer many of your questions. However, should your questions remain unanswered we advise that you consult with your doctor. This is not a comprehensive review of Uprima but a compiled guide to the use and effects. If any aspect of taking Uprima concerns you consult with your doctor before ordering.
Uprima is no longer available from UK Medix, but we do offer other products for impotence and erectile dysfunction - click here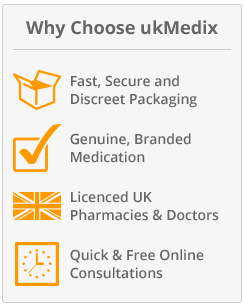 PharmaCheck
Know your Pharmacy
View More
Fast delivery! Got them the next day. Thanks so much!J. Gardner - London
Once again you have not failed to amaze. Order received at the hotel and looking forward to the weekend. Thanks guys!S. Parkins - Wales
Simply wow! Easy process to order and descreetly delivered the following day!P. Hibbert - Norfolk


ORDER NOW