Sexually Transmitted Infections
Sexually Transmitted Infections (STI's)
The treatments we dispense for STI's are medicines licensed in the UK.
These include Aldara, Zithromax, Famvir, Flagyl and Valtrex.
Sexually transmitted infections (STI's) are a risk to anyone who engages in any kind of sexual activity, especially those who do not use a condom. It is important to get regularly tested for STI's and to be aware of the dangers and treatments available.
Types of STI's
There are three types of STI's:
Bacterial such as Chlamydia. Chlamydia does not necessarily show symptoms and so often remains untreated and can therefore lead to other health issues.
To view available treatments for Chlamydia you need to view Zithromax
Viral such as Genital Herpes or Warts. These cannot be cured but are treatable and a patient may therefore suffer several outbreaks.
To view available treatments for Genital Warts you need to view Aldara
To view available treatments for Genital Herpes you need to view Famvir or Valtrex
&
Parasitic such as trichomonas vaginalis, which is a veneral disease that can affect both men and women.
To view available treatments for T. Vaginalis you need to view Flagyl
How do you get an STI?
Anyone who is sexually active is at risk of an STI, especially those who are having unprotected sex. STI's are spread through sexual contact with an infected partner and this is not limited to vaginal intercourse. The best way to prevent getting an STI is to use a condom.
The importance of being tested for an STI
If you are sexually active you must get tested for STI's as some STI's do not show symptoms and can therefore only be diagnosed through testing. Other symptoms include unusual discharge or bleeding from the vagina, penis or anus, some pain during sexual intercourse or while urinating, abdominal pain and unusual blisters, sores or rashes in the genital area.
Your local GP or sexual health clinic will be able to test you for STI's.
What treatments are there for STI's
Most STI's can be treated with medication such as antibiotics but you need to make sure that you are taking the right medication for the right condition.
Treatments for T. vaginals:
Treatments for Genital Warts:
Treatments for Genital Herpes:
Treatments for Chlamydia: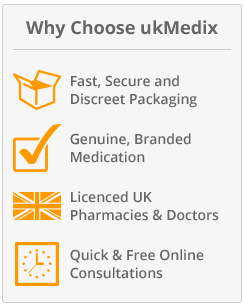 PharmaCheck
Know your Pharmacy
View More
Fast delivery! Got them the next day. Thanks so much!J. Gardner - London
Once again you have not failed to amaze. Order received at the hotel and looking forward to the weekend. Thanks guys!S. Parkins - Wales
Simply wow! Easy process to order and descreetly delivered the following day!P. Hibbert - Norfolk


ORDER NOW