faq Information special
Delivery to the UK and Ireland in One working day. Orders may take 2 to 4+ days to all other countries.
All orders are only fulfilled once a valid UK prescription has been issued.
All orders are fulfilled from our UK & Ireland dispensing pharmacists (licensed in the UK)
---
We would like to advise all patients to consult with their physician prior to taking any new course of medication. Should there be any concerns it is in your best interests to seek professional medical advice. As part of the ordering process you will be asked to complete a questionnaire specific to each drug. It is vital that this is completed correctly and in full detail.
We recommend that every patient reviews all information concerning relevant medication before submitting a consultation form.
What prescription medicines do you dispense?
The licensed pharmacy dispenses Viagra, Xenical and Propecia. These are medicines that can be prescribed via an online consultation. These medicines do not require a physical examination. We do strongly recommend that you consult with your physician if you have any concerns about either your health, or about using any of these products.
How do you guarantee that your medicines are genuine?
All items dispensed are medicines carrying the manufacturers stickers and hallmarks. They are dispensed from UK pharmacies.
How does an online medical consultation work exactly?
An online consultation uses the internet to facilitate the patientís access to healthcare. This is particularly beneficial for sensitive conditions. You fill in the online questionnaire on your health/medical condition, which is in turn securely forwarded and reviewed in complete confidence by a UK doctor. This online consultation is only used for medical conditions that do not require a physical examination. Order now - Click here
---
What happens once I submit my order?
Once we receive your order, it is securely forwarded to a doctor. He will review the information that you have submitted and will either approve or decline your request. Should your order be approved the doctor will write your prescription and send it in confidence to a pharmacy. The pharmacy then completes and delivers the package to you. Your prescription will include information detailing the dosage and cautionary information.
Is shipping included in the price shown?
Yes shipping is included in the price shown and is carried out by the Royal Mail trackable service.
When is payment taken?
Payment is taken once the prescription has been issued and the goods dispatched.
What currency will I be charged in?
We only transact in GBP sterling - no other currencies are accepted.
What will show on my credit card statement?
UK Medix will appear on your credit card statement.
When will my order arrive?
Within the UK we send all orders by Royal Mail Special Delivery which guarantees next day delivery by 1pm.* All other countries pls allow 2 to 4 days for delivery.
Will my order be discreetly packaged?
Yes. All packages will be discreetly wrapped and dispatched to ensure safe arrival.
Do I need to be at home in order to sign for it?
Yes. You need to be available to sign for delivery at the address which you give on your order form, however, you may give your work address if you wish.
I placed my order more than 2 days ago and it has still not arrived. What should I do?
Kindly contact us immediately with your order number. Although this has never happened with a ukmedix delivery, in the unlikely event, all our orders are easily traced and we will organise a new shipment for immediate dispatch incurring any costs ourselves.
Can I place an order on the telephone?
No. Orders need to be submitted with a complete consultation form, and therefore need to be completed online. Ordering online is easy with ukmedix and comes with free guaranteed delivery. If you would like to place an order now click here
Can I return my medicine for a refund?
Returned medicines cannot be re-used. Therefore, we are not able to offer refunds if you change your mind medicines are sent to you.
Can I pay by cheque or postal order?
No. At this time ukmedix only accepts major credit cards.
What credit or debit cards do you accept?
We accept all major credit cards (Visa and Mastercard) through our secure payment station, and are happy to announce we now accept Visa electron (debit card) now.
---
What are your policies on privacy and security?
Our online ordering system uses secure servers. A system used by many companies around the world. It is recommended by the majority of UK high street banks and has an excellent track record in secure and private transactions.
Will I receive unsolicited emails or post?
No. Your details will not be passed on to anyone else by us.
Why do you need my phone number on the order form?
We need your phone number should we need to contact you regarding your order, payment or security issues.
* The usual dispatch cut off time is 3pm. If your order has not been received by 1pm the following day please allow one more day before contacting us. Saturday or Sunday orders will arrive on Tuesday.
Order now - click here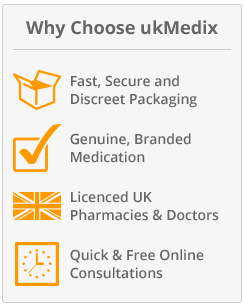 PharmaCheck
Know your Pharmacy
View More
Fast delivery! Got them the next day. Thanks so much!J. Gardner - London
Once again you have not failed to amaze. Order received at the hotel and looking forward to the weekend. Thanks guys!S. Parkins - Wales
Simply wow! Easy process to order and descreetly delivered the following day!P. Hibbert - Norfolk


ORDER NOW