Hair Loss Alternatives
OTHER POSSIBLE TREATMENTS FOR HAIRLOSS
Other hair loss treatments could include:
Commercial and Natural Products
Other Treatments
Commercial and Natural Products
There are literally hundreds of different over-the-counter hair loss products. These products are usually topical; meaning that the product is applied to the scalp and/or hair itself.
One of the more common and popular of these products is Regaine, (Rogaine in the US). The manufacturer of this over-the-counter medication claims that hair is regrown in three out of five men over a 48 week period.
Other commercial products include shampoos and topicals designed to maximise the hair follicles and add nutrients to the scalp.
There are natural (herbal) hair loss products which claim to control and/or regrow hair. These include: Soy extract, Saw Palmetto, Cayenne Pepper, and Nettle extract.
Other Treatments
There are many non-medical hair loss treatments; wigs, toupees, hair extensions, or other processes such as hair bonding fusion have always solved hair loss for some men and women. Hair weaving and artificial hair implants; although similar in principle as the above mentioned, require surgery.
There are also cosmetic hair loss treatments whereby the scalp is dyed the same colour as the patients' hair.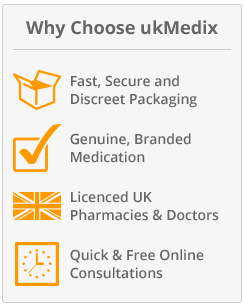 PharmaCheck
Know your Pharmacy
View More
Fast delivery! Got them the next day. Thanks so much!J. Gardner - London
Once again you have not failed to amaze. Order received at the hotel and looking forward to the weekend. Thanks guys!S. Parkins - Wales
Simply wow! Easy process to order and descreetly delivered the following day!P. Hibbert - Norfolk


ORDER NOW