Contraception
Contraceptives
Treatments we dispense for contraception are medicines licensed in the UK.
There are three categories of contraceptive treatment, they are: 'Combined Pills' or 'Combination Pills', 'Mini-Pills' and 'Contraceptive Patches'. Please note that all our contraceptive medications and treatments are issued upon the successful completion of our free online consultations.
Types of contraceptive medications
Contraceptive patch
Evra (or the 'Evra Patch') is a transdermal patch that is applied to the skin. The term 'transdermal' means 'skin-applied' delivery, i.e. the dosage and medication is absorbed through the patient's skin. The Evra Patch releases synthetic estrogen and progestin hormones that prevent an unwanted pregnancy. There is considerable research that indicates that the Evra Patch ('Patch Delivered Contraception') is just as effective at preventing pregnancy as the other types of contraceptives available to women.
There are several reasons why a women might prefer a contraceptive patch when compared to an orally ingested treatment (such as those listed below), such as, wearing a patch significantly eliminates the need to remember to take a pill each day.
Aside from the contraceptive patch that we dispense, there are only two other main types of birth control pills: Combination Pills (referred to as 'Combined Pills above') and Progestin-only Pills (referred to as 'Mini-Pills' above).
Combination Pills
Combination pills are the most common type of contraception treatment. UKMedix currently dispenses the following combination contraceptive pill treatments: Binovum, Cilest, Dianette, Femodette, Femodene, Loestrin, Logynon, Marvelon, Mercilon, Microgynon, Ovranette, Qlaira, Trinovum and Yasmin.
Combination pills are categorised on the amount of estrogen and/ or the amount and type of progestin contained within the medication. Like the contraceptive patch, combination pills contain estrogen and progestin hormones; both of which are highly effective at preventing pregnancy. In addition to acting as a contraceptive, combination (and 'mini-pills') have other benefits including:
Shorter, lighter and less painful periods
Reducing the severity or frequency of menstrual migraines
Improving bleeding and pain associated with endometriosis and fibroid
Helping with the progression of acne
Lowering the risk of ovarian and uterine cancer
Lowering the risk of pelvic inflammatory disease
Improving bone density
Mini Pills
Our Mini-Pills include: Cerazette, Micronor and Noriday.
Mini-Pills (often referred to as 'Progestin-only Pills' or 'POP'), are different from combination pills since they contain only one hormone (progestin) instead of two hormones (both progestin and estrogen) that are present in combination pills.
There are several reasons why our medical team at UKMedix will issue a prescription for a 'mini-pill' treatment over 'combination pill' medication, such as, for example, whether the patient suffers from a possible increased risk of heart disease or is breastfeeding.
In Summary
Fortunately there are many available options for women whom wish to avoid becoming pregnant (or seek treatment for other off-label treatments listed above). Prior to seeking consultation for any of our contraceptive treatments we must remind you that these medications do not prevent sexually transmitted infections and they can carry side effects and/ or other health risks.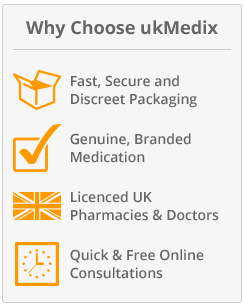 PharmaCheck
Know your Pharmacy
View More
Fast delivery! Got them the next day. Thanks so much!J. Gardner - London
Once again you have not failed to amaze. Order received at the hotel and looking forward to the weekend. Thanks guys!S. Parkins - Wales
Simply wow! Easy process to order and descreetly delivered the following day!P. Hibbert - Norfolk


ORDER NOW