Aldara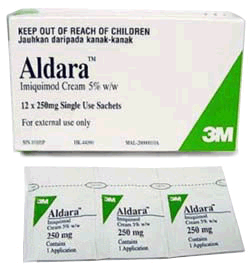 Aldara - Genuine Meda medication
When it comes to genuine quality prescription medications, UKMedix doesn't compromise. We have medication from authentic and trusted pharmaceutical brands that gives us the perfect opportunity to offer medication with a history of successful treatment of diverse conditions today.
This is the reason we offer genuine Aldara from Meda and hardly a generic alternative. Together with the Aldara Cream we provide the highest quality of medical help and advice throughout the treatment process.
Through a web consultation form on our site simply answer all the questions required by our team of health professionals to learn as much as possible about your condition that requires the Aldara Cream. As a result you'll receive the best prescription to go with your condition that also meets your current requirements.
Our team of doctors are on standby to help you free of charge with advice, facilitation and professional medical help without obligation.
What is Aldara?
A modifier for immune response, imiquimod or Aldara is indicated for the treatment of actinic keratosis, a condition associated with overexposure to the sun on the scalp and face. It's also indicated for the use of less severe skin cancers known as base cell superficial carcinoma in case surgery isn't considered the best treatment.
Aldara is also used to treat genital warts appearing on the outer areas of the body but it doesn't cure genital warts. The immune response modifier is used mostly in children and adults above the age of 12 years. There're lots of different ways Aldara comes into usage not mentioned here.
Important Details to Note While Using Aldara
Remember over using Aldara increases the potential of severe skin complications. Stick to the instructions provided by your doctor. Never use Aldara on exposed body areas like burned skin, wounded skin or broken skin. Wait until the skin has healed to use it.
Always let the medical professional know if you're suffering from a weak immune system, host-versus-graft disease or autoimmune disorders including any cord blood or bone marrow transplant you might have had.
When used for the treatment of genital warts particular on the vagina area ensure the cream does not move into the sensitive inner vagina tissue layers. If this happens the vagina could swell, urination can be painful or the vagina can be severely irritated.
Don't forget to avoid tanning beds and sunlight exposure since sunburn can be severe with the use of Aldara. Perhaps some protective clothing can suffice or get SPF 30 and above sunscreen if you've to be outdoors.
Remember Aldara doesn't cure genital warts and cannot stop an infected person from spreading the condition through oral, anal or vaginal sex. Even as you use Aldara it's possible to develop fresher lesions.
Use the medication for the time frame indicated by the doctor.
Aldara is not a protection against STDs like HIV, Chlamydia, trichomoniasis, syphilis, herpes and gonorrhoea. If the rectal or genital area is being treated with the medication, sexual activity should be avoided while the cream is still on the skin; it can weaken diaphragms and condom rubber.
How To Use Aldara
Always use Aldara as prescribed and avoid using it for too long or too much to avoid severe skin reactions. Always wash your hands before you apply the cream including the area on the skin being treated. The skin should be left to dry for a minimum of 10 minutes prior to the application of the medicine.
Normal use of Aldara includes 2-5 times every week up to a maximum of 16 weeks. The usage depends on the type of condition being treated.
Actinic keratosis-Should be applied two times every week, for example Tuesday and Thursday or Monday and Friday for a total of 16 weeks and left for about 8 hours.
Basal cell superficial carcinoma-Aldara is applied five times each week, for example from Monday up to Friday for the entire 16 weeks and should be left on the area applied for 8 hours.
Genital warts-Aldara should be applied for three times each week, for instance Tuesday, Wednesday and Thursday for not more than 16 weeks and should be left between 6-10 hours.
Never use Aldara in the treatment of a skin condition unapproved by your doctor and don't share the cream with anyone out there whether the symptoms and condition are the same.
What to Avoid with the Use of Aldara
Ensure Aldara doesn't enter your lips, nose, mouth or eyes or place it inside your urethra, vagina or rectum. In case the cream finds it way accidentally use water to rinse the areas.
Always avoid the use of Aldara on skin that's broken, irritated, chapped, very dry, wind burned or sunburned.
Should You Buy Aldara Online?
As you search for treatment for your condition that Aldara is fit for you might want to be careful about the website offering the medication. Every prescription treatment case needs to be treated confidentially and effectively, sometimes fast, by a qualified team of medical professionals. UKMedix offers a confidential, private and customised service free of charge that gets you the experience of a team of doctors without having to queue for hours or wait for days to meet a doctor one on one.
Don't just buy Aldara Cream online without establishing the site is approved and certified by a governmental body.
The last thing you want is access unregulated medication unendorsed by medical professionals. The medication you receive might end up more harmful than useful. UKMedix is certified and regulated by MHRA.gov.uk; click the MHRA badge of approval on UKMedix website to take you to the official government site where our approval and certification information is available.
In case the website you're purchasing Aldara from has no approval and certification from a governmental site they're probably operating illegally. Their medication might be risky to your health and skin.
What are the Side Effects of Aldara?
Those who had organ transplants and have been put into immune suppressing therapy should avoid Aldara. Mild side effects that you might experience while using Aldara include:
Fever blisters and cold sores
Mild irritation of the skin, scabbing, skin hardening on the applied skin area, redness, crusting, flaking, dryness and itching
Back pain, chest pain, dizziness and headache
Symptoms of a cold like sore throat, sneezing and stuffy nose
Appetite loss, diarrhoea and nausea
Vagina discharge or itching
I Would Like More Info on Aldara
While finding the right treatment to deal with the medical condition afflicting we understand finding all the answers you need is never easy and always very difficulty while the sources are not trustworthy, particularly online. Do talk to UKMedix doctors directly today and receive all the answers you're looking for.
Note that as you talk to UKMedix medical professionals you're not obligated to buy the treatment. All the advice provided is without obligation in a confidential manner and free of charge.
Aldara Prices
Step 1 - Select & Proceed
STI consultation requesting Aldara as possible treatment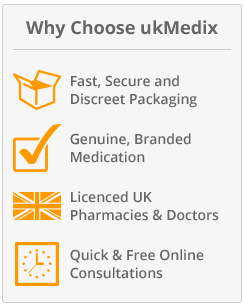 PharmaCheck
Know your Pharmacy
View More
Fast delivery! Got them the next day. Thanks so much!J. Gardner - London
Once again you have not failed to amaze. Order received at the hotel and looking forward to the weekend. Thanks guys!S. Parkins - Wales
Simply wow! Easy process to order and descreetly delivered the following day!P. Hibbert - Norfolk


ORDER NOW





233